ASRock Rack Exhibits Newly Minted Server Technology at Japan IT Week Spring 2018
Tokyo, Japan – Japan IT Week Spring - May 9, 2018 – At Japan IT Week Spring 2018, the Japan's largest IT Show with 1,700 exhibitors and 91,000 visitors taking place from May 9th to 11th at Tokyo Big Sight, Japan, ASRock Rack, specialized in high performance and high-efficiency cloud computing server technology, in booth No. E36-9 will exhibit its complete line of server motherboards based on the new Intel® Xeon® D-2100 SoC processors, Intel® Xeon® Scalable Family processors, and Intel® Atom® C3000 processors. Moreover, ASRock Rack will be also showcasing the latest Intel® Xeon® W CPU based workstation motherboards, and the high density and highly scalable sever and storage platforms.
Offering ultra-dense and low-power compact optimizations, the new-release D2100D8UM server motherboard based on the new SoC Intel® Xeon® D-2100 processor, ideal for the data center core to the intelligent network edge server computing applications and security appliances.
The 4U100-C612 storage server featuring 4U 100-bay is mainly focusing on extremely high density and large storage capacity for hosting business. Optimized for massive data capacity and hyper-scale cloud datacenter storage applications, the 4U100-C612 storage sever features efficient computing power with the latest Intel® Xeon® processor E5-2600 v3/v4 family and supports industry leading storage density with 100x 3.5" hard drive bays from chassis backplane and 2x 2.5" hard drive bays from MB, aiming to offer customers a flexible way to max out storage and space.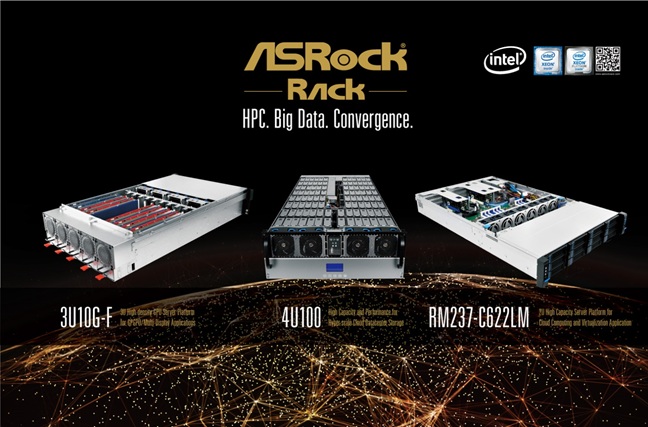 Accommodating with four double-deck graphic card holders to deliver high performance processing power to handle the most demanding tasks, the R403-C612 WS 4x GPU capable 4U Rackmount platform features with support for four PCIe3.0 x16 and eight DDR4 2133 DIMM slots, ideal for deep learning and big data analysis workstation applications.
Supporting up to 10 double-width GPGPU cards under a single root complex, the 3U10G-F/C621 3U Rackmount GPU server supports Intel® Xeon® Scalable processors and LRDIMM or RDIMM DDR4 2600MHz memory in 16 DIMM slots, optimized for HPC, artificial intelligence, big data analytics, business intelligence applications.
Powered by Intel® Xeon® Scalable processors, the RM237-C622LM 2U Rackmount optimized and high-performance storage platform features mezzanine cards with network and storage scalability, 24 DIMM slots for large memory capacity, and L-shaped motherboard design offering sufficient CRPS and space saving, is the best server barebone choice for complex gigantic data, parallel processing, cloud computing and virtualization environments.
Visit ASRock Rack at Japan IT Week 2018 from May 9th to May 11th at booth E36-9, East Hall, Tokyo Big Sight. For more information on ASRock Rack's complete product line of high performance, high-efficiency server, storage and networking solutions, please visit www.asrockrack.com.
Event Details
Date: May 9(Wed) – May 11(Fri), 2018, 10am - 6pm (Last day until 5pm)
Venue: Tokyo Big Sight, Japan
Booth: E36-9 (East Hall)
About ASRock Rack ASRock Rack Inc., established in 2013, specialized in the field of Cloud Computing server hardware. While inheriting ASRock's design concepts, "Creativity, Consideration, Cost-effectiveness", the company is dedicated to bring the Server Industry out of the box thinking with the passion to innovate. Leveraged by ASRock's growing momentum and distribution channels, this young and vibrant company targets at the booming market of Cloud Computing, and commits to serve the market with user friendly and eco friendly Do It Yourself Server hardware, featuring flexible and reliable products.
"ASRock Rack" is the official trademark for ASRock Rack, Inc., all the covers need to remain the original brand name without any modification. All other brands, names and trademarks are the property of their respective owners.
Website: www.asrockrack.com
Facebook: www.facebook.com/ASRockRack
LinkedIn: www.linkedin.com/company/3568757
Twitter: https://twitter.com/asrockrack