The Best Has Arrived: See What ASRock Rack Has Got Lined Up For Intel® Xeon® Scalable Processor Platform

Taipei, Taiwan, July 12, 2017
As Artificial Intelligence (AI) becomes more pervasive in the market, ASRock Rack is introducing 5 new motherboard designs based on the new Intel® Xeon® Scalable Processor platform and can deliver up to 2.2x more machine learning inference and training performance for AI.
The new Intel® Xeon® Scalable Processor marks a significant milestone in processor architecture for Intel, with upgrades from AVX2 to AVX-512 instructions, and a 1.5 times increase in memory bandwidth from 4 to 6 channels. This new processor supports an integrated host fabric interface (HFI), and up to 100Gbp bandwidth with the Omni-Path architecture. It significantly improves scalability and resilience with new IO capabilities by expanding to 48 PCI-E lanes which allows more possibilities for hardware acceleration and high-end storage. Meanwhile, the server platform supports Intel® Ethernet Connection X722 which has 4x10GbE with RDMA.
In collaboration with Intel, ASRock Rack has launched 7 different, new server motherboards and 2 barebone systems based on the Intel® Xeon Scalable Processor. Each different motherboard has targeted market segments served by a variety of form factors from rack, to blade and pedestal. ASRock Rack's goal is to always provide leading server technology and to provide the ability to upgrade a wide suite of existing applications.
EPC622D24LM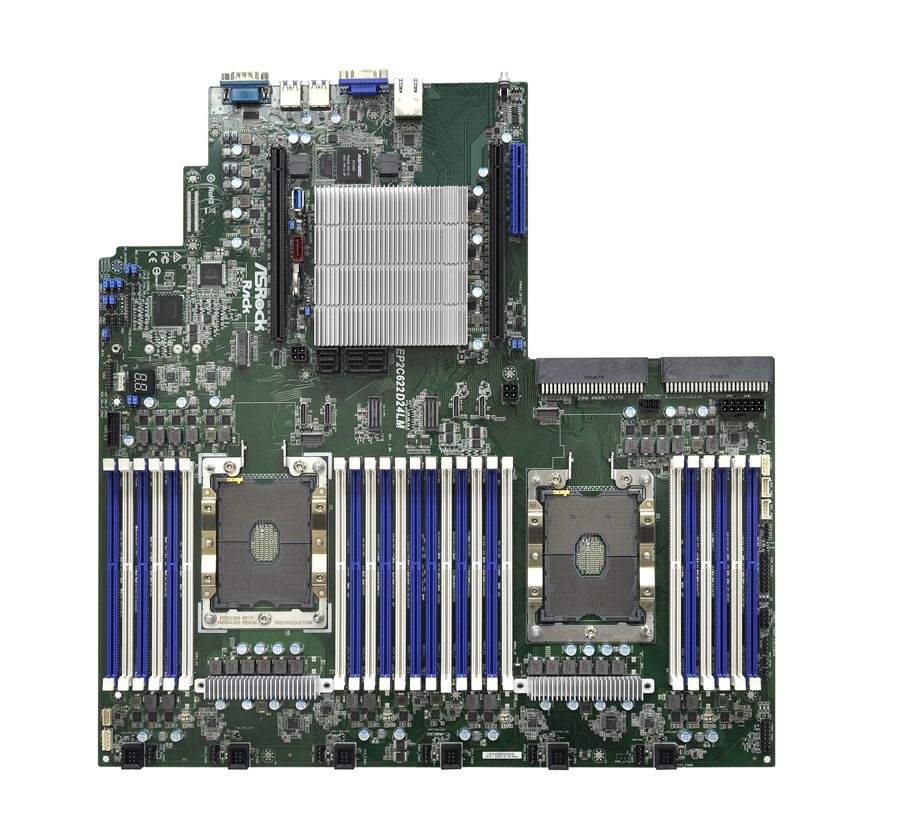 Key Segments and Specification
Enterprise Mission Critical Application / Datacenter / E-commerce / Virtualization
L shape 16.7"x17"
Dual Socket P support Intel® Xeon® Scalable Processor
24 xDDR4 2600/2400 R or LR DIMM slots
14 x SATA3 6.0Gb/s by Intel® C622 ( Incl. 2xM.2 slots)
2 x PCI-E3.0x16 (Slot1:x16 CPU0, Slot2:x16 from CPU1), 1xPCI-E3.0x8 from CPU1
5xUSB3.0 ports(2 ports in rear side, 2 ports from internal header, 1 port internal type A)
EP2C622D16NM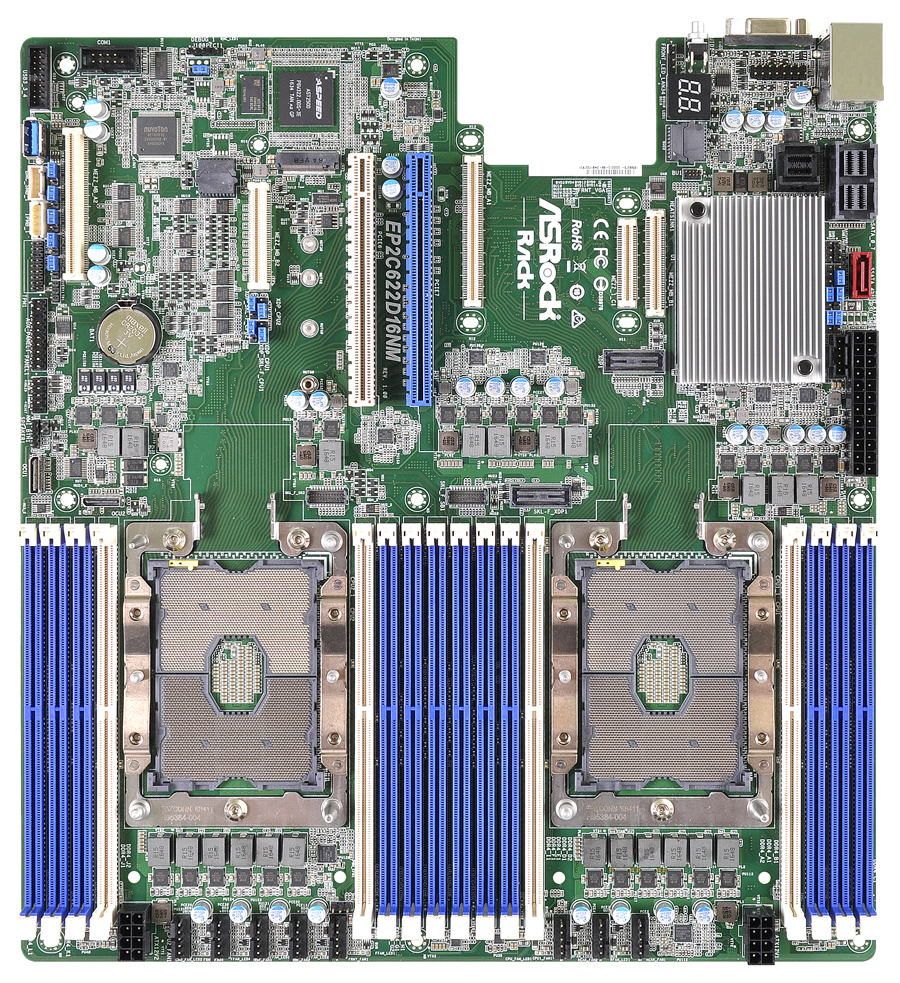 Key Segments and Specification
High Performance and High-density HPC / Mission Critical / Hyper Converge / Database or Haddop Server with SSD Acceleration / I/O virtualization / Co-location
EEB 12"x13"
Dual Socket P support Intel® Xeon® Scalable Processor
16 xDDR4 2600/2400 R or LR DIMM slots
14 x SATA3 6.0Gb/s by Intel® C622 ( Incl. 1xSATA DOM ports and 1xM.2 slots)
2 x PCI-E3.0x16
Support OCP Mezzanine type A/B/C
EPC621D8A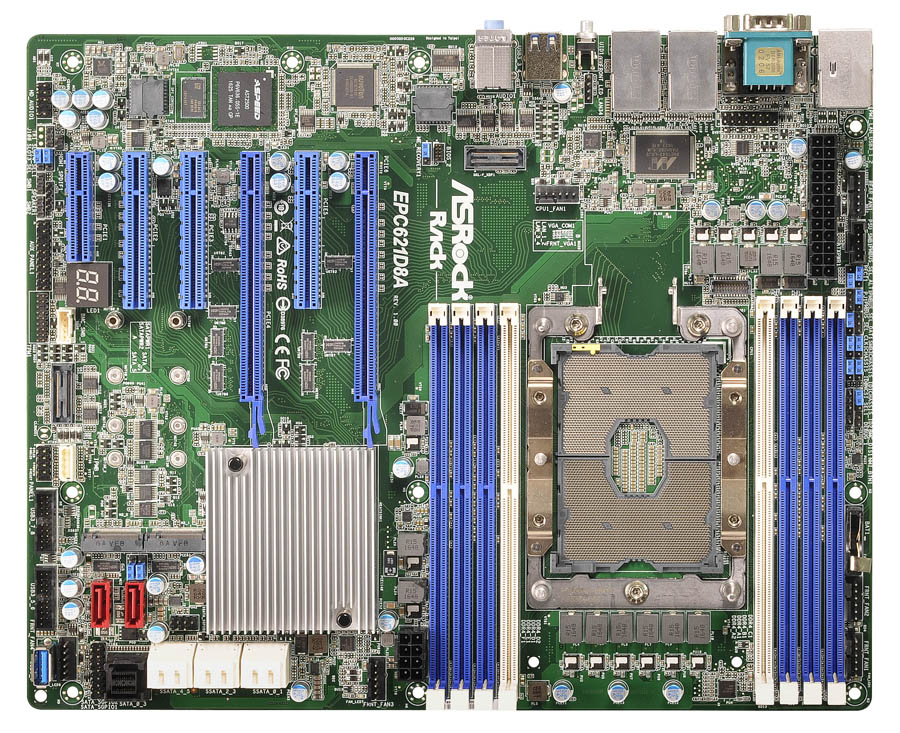 Key Segments and Specification
UP Solution for Application Server / High-end Workstation / GPGPU Server / Multi-display Server
ATX 12" x 9.6"
Single Socket P supports Intel® Xeon® Scalable Processor
8 x DDR4 2666/2400 R and LRDIMM slots
14 SATA3 6.0 Gb/s by Intel® C621(Incl.1 x SATA DOM and 1 x M.2)
2 x PCI-E3.0x16, 3 x PCI-E3.0x8. 1 x PCI-E3.0 x4
EP2C622D24HM

Key Segments and Specification
HPC Application / Scientific Computing / Real-time Finance / Research & Labs
Half Width (OCP Blade) 6.5" x 20"
Supports Intel® Xeon® Scalable Processor ( with FPGA package TDP 205W)
24 x DDR4 2666/2400 RDIMM/ LR DIMM
Intel® C622: 13 x SATA3 (by 3x mini SAS HD, 1xM.2)
1 x PCI-E3.0x24, 1 x PCI-E3.0x8
1 x USB3.0 port
Support OCP Mezzanine type A/B/C
EP2C622D16HM


Key Segments and Specification
High Performance Computing Node / Virtualization Server / DPI Server / Internet Security
Half 20" x 6.5"
Dual Socket P support Intel® Xeon® Scalable Processor
16 x DDR4 2666/2400 R and LRDIMM
14 SATA3 6.0 Gb/s by Intel® C622 (Incl.1 x SATA DOM and 1 x M.2)
2 x PCI-E3.0x16
EP2C622D16FM

Key Segments and Specification
High Performance Server / High-density CPU Rendering Machine / Scale-out HPC Platform / GPGPU Server
SSI CEB 12" x 10.5"
Intel® Xeon® Scalable Processor
14 SATA3 (12 from 3 x miniSAS connector + 2 x M.2 ports from PCH)
2 x USB3.0 ports
Integrated IPMI2.0 with KVM and dedicated LAN(RTL8211E)
Support OCP Mezzanine type A/B/C
EP2C622D12HM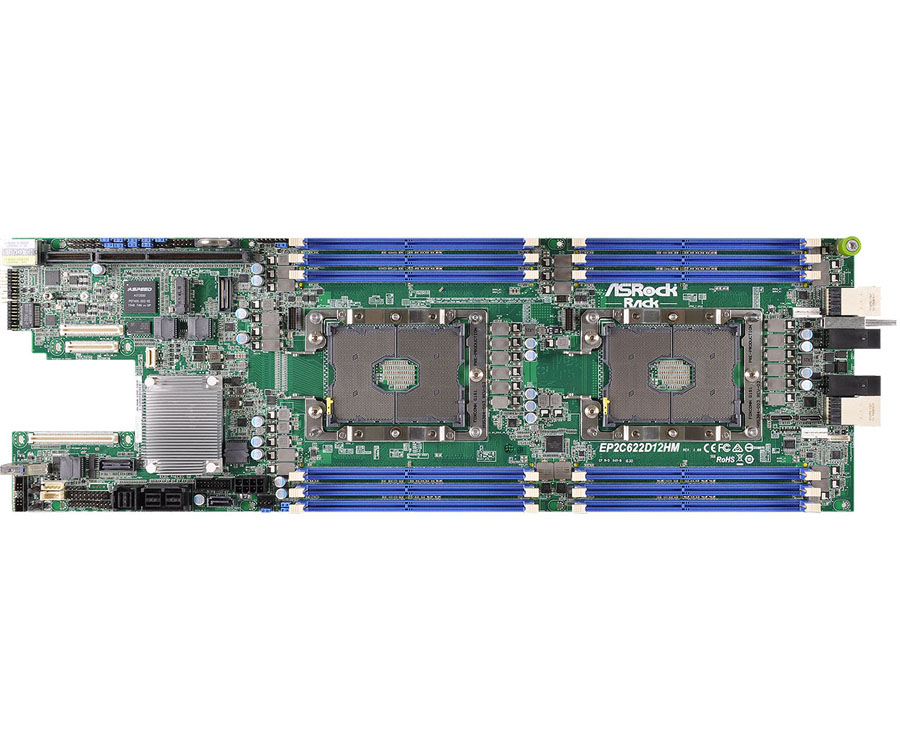 Key Segments and Specification
High Performance Computing Node / Virtualization Server / DPI Server / Internet Security
Half Width(OCP Blade)6.5"x20"
Intel® Xeon® Scalable Processor
13 SATA3 (12 from 3 x miniSAS connector + 1 x sSATA shared with M.2)
1xPCI-E3.0x24, 1xPCI-E3.0x8
1 x USB3.0 ports
Support OCP Mezzanine type A/B/C
1U12LX-C622RPSU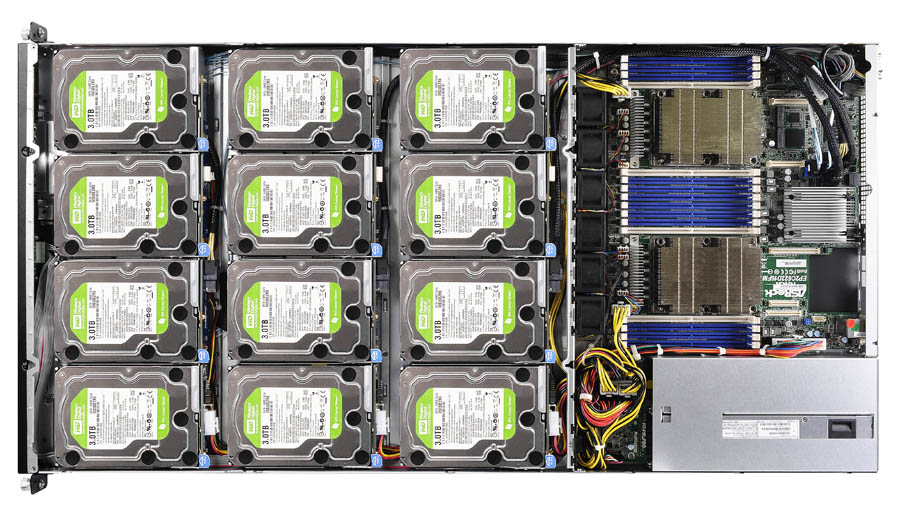 Key Segments and Specification
High-density Web 2.0 Cloud Datacenter Storage
1U Chassis support 12x3.5'' SATA3/SAS2 HDD Hot-Swap Bay +2 x 2.5'' HDD Bay with 700W Redundant PSU
Intel® Xeon® Scalable Processor
Supports Dual Channel DDR4 2133/2400/2666 RDIMM,LR DIMM,NV DIMM ECC , 16 slots
Support 14 x SATA3 by C622
ASPEED 2500. Integrated IPMI 2.0 with KVM, vMedia and Dedicated LAN (RTL8211E)
Supports 2 x x8 Mezzanine slot & typeC slot support OCP mezzanine card
1U12LX-C622SPSU

Key Segments and Specification
High-density Web 2.0 Cloud Datacenter Storage
1U Chassis support 12x3.5'' SATA3/SAS2 HDD Hot-Swap Bay +2 x 2.5'' HDD Bay with 700W Single PSU
Intel® Xeon® Scalable Processor
Supports Dual Channel DDR4 2133/2400/2666 RDIMM,LR DIMM,NV DIMM ECC , 16 slots
Support 14 x SATA3 by C622
ASPEED 2500. Integrated IPMI 2.0 with KVM, vMedia and Dedicated LAN (RTL8211E)
Supports 2 x x8 Mezzanine slot & typeC slot support OCP mezzanine card
Website: www.asrockrack.com
Facebook: www.facebook.com/ASRockRack
LinkedIn: www.linkedin.com/company/3568757
Twitter: https://twitter.com/asrockrack