The One and Only Skylake-H BGA Server Motherboard by ASRock Rack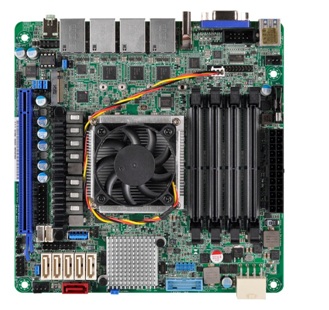 C236 WSI4
Taipei, Taiwan, May 31st, 2016
Intel® just released the new processor E3-1500 v5 BGA on the opening of Computex Taipei 2016, which is based on Skylake-H platform. It adopts 14nm technology, empowering the graphic by GT4e inside the processor. It benefits the datacenters to deal with extensive streaming, expands the horizon nowadays. Right after the launch of E3-1500 v5, the innovative server technology provider ASRock Rack has released the new motherboard C236 WSI4 in Computex.
C236 WSI4 is a rarely seen server motherboard in the market, which features E3-1500 v5. The motherboard shapes in mini-ITX, flexible for mini servers or blade-type servers. It has four DDR4 ECC SO-DIMM slots, six SATA3 ports includes one SATA DOM, and one PCIe3.0x16 slot for extra graphic cards. It possess decent I/O interface in small form factor: four of GLANs, one D-Sub and one HDMI port to echo the powerful graphic in the BGA processors. ASRock Rack also plans to build a microserver based on C236 WSI4 in 2nd half, 2016. Adopting the GT4e in multiple nodes can benefit more markets such as video transcoding, surveillance, contend delivery network and professional graphic servers.
Specification
Mini-ITX 6.7"x 6 .7"
Suports Intel® Xeon® E3-1500 v5 Series Processor BGA
Supports dual channels 4* DDR4 ECC SO-DIMM
6*SATA3 (含1*SATA DOM)
1* PCIe 3.0 x16 slot
4 GLAN Intel® i210*2 + Intel® i219*2
Graphic controller GT4e (pGFX)
Website: www.asrockrack.com
Facebook: www.facebook.com/ASRockRack
LinkedIn: www.linkedin.com/company/3568757
Twitter: https://twitter.com/asrockrack